It's common in Sweden that media paints a picture of online shopping as "dangerous" and we often read articles or watch tv-programs where you learn how to shop online in a secure and safe way. We feel that this is very biased and it unnecessarily discourages customers from shopping online. Therefore we wrote the following article as a sarcastic response to their warnings of online shopping – how safe is it to shop offline?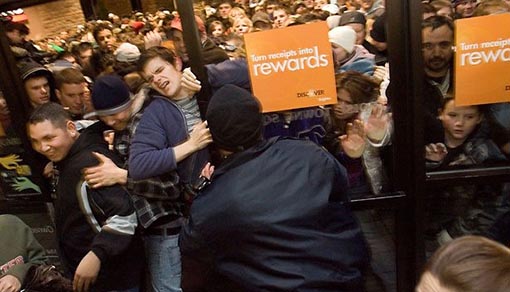 Black Friday-rea, 1/12 2013
Safe Christmas Shopping In Stores
Make sure that you are on guard and stay aware of your surroundings when you are out shopping offline. Be ready to, whenever it is necessary, turn around, go home, and shop online instead. Don't ignore your gut feeling if you feel threatened or insecure about your purchase. This is some of the advice that Sarah Wittbom, CEO at Nordic eCommerce Knowledge, gives us before Christmas shopping gets too crazy.
Close to 60 percent of Swedes choose to shop offline in brick and mortar stores this year, according to Konsumentverket.
"In brick and mortar stores you have the chance to touch and examine the product, and you get it instantly. This makes it very tempting to shop offline, but there are a lot of things to consider about offline shopping", Sarah Wittbom says.
The best way to avoid the dangers with offline shopping is to scan the surroundings, in and outside the store. Is it crowded inside the store? Are there any customers with backpacks? Is anyone sneezing, coughing or looking like they have a fever? If the answer to any of these questions are, yes, it would be better to just go home and shop online instead where your safe.
"It's easy to forget the dangers of offline shopping, but the terrorist attack in the centre of Stockholm a few years ago reminded us clearly of the dangers of shopping in physical stores. Additionally, the epidemic of the winter sickness has taught us to avoid crowds, the risk of being infected is much bigger when shopping offline than online in the comfort of your own house", Sarah Wittbom says.
If you make the decision to walk into a brick and mortar store, you probably should keep your eyes open because danger lurks around every corner. It is easy to fall prey to pickpockets and thieves in the shopping crowd. Also, make sure that you have decided your method of payment beforehand, so that you are ready with cash in case the credit card terminal looks suspicious.
Many are also seduced by sales staff who do not always have the best intentions.
"Have in mind that they often work on commission, and unfortunately that can lead to a certain dishonesty when they recommend products. We often hear from customers who've been convinced by a sales person to purchase an electronic product that they didn't need or that was cheaper somewhere else. One way to minimize that risk is to bring your mobile phone and search online for the product you are looking at when in the store, to see where you could find it online for the best price. You might be able to purchase the product directly from your phone while you are in the store. The purchase is done quickly and the product will be shipped straight to your home and you're not carrying around heavy bags." Sarah Wittbom says.
Some advice to keep your offline shopping safe:
1. Choose a store that also has an online store
Choose to shop in stores that you already are familiar with online. If you already have experienced shopping online in their webshops you know that they have an online presence, so it is easy to get in contact with them if their are any problems.
2. Scan the store and the building
Does the building look stable, and is it built on a good foundation? Does it have the capacity to endure aggressive shopping crowds? Before you step into the store, scan the surroundings. Avoid crowds, backpacks, and anyone coughing or sneezing.
3. Is the sales staff too nice?
Always be suspicious towards nice sales staff, if they are too good to be true, they are probably faking it to make you buy unnecessarily.
4. How is the lighting in the store?
Often the lighting in a brick and mortar store can be deceiving. The fitting rooms have "soft lights" and mirrors that make you appear thinner to beautify your appearance. So when you get the product home it may look completely different than it did in the store.
5. Does the store have the necessary equipment to make your payment secure?
Always examine the cash register, the credit card terminal and other equipment before you make a payment. Do they offer all the common payment methods, such as, VISA/Mastercard/Amex, Paypal, bank transfer, invoice and mobile payment? If they don't, the store does not have a secure payment setup. Also, some stores often forget to remove the alarm unit from the product during the check-out process. Make sure that you double check to see if the alarm is removed to avoid unnecessary hassle and embarrassment at the store exit.
6. Can you purchase the product in a mobile webshop?
A good way to shop offline is to go to the brick and mortar store, pick a product, and then search online with your phone to find the best alternative online. In that way you get to see and touch the product and still get the best price. Another advantage to online shopping is that someone else delivers to your house. You also avoid the risk of being robbed in the store or on the way home.
7. Plan the "shipping"
How will you get home? By subway, bus, car or walking? It's easy to forget the weight of the purchased products and you might have to put some extra money towards a cab or another way to get home. Check the weather report before you leave home so you are prepared.
8. Do you have time for returns?
Always make sure to have the time to go back to the store some days later, if you need to return your product. Plan some extra time for this after Christmas, because the crowds are even bigger than before Christmas.
If you want to know which offline stores are certified by Nordic eCommerce Knowledge, contact Sarah Wittbom for more information.
The article above is a paraphrase on an article in Dagens Nyheter December 4th 2013. Nordic eCommerce Knowledge thinks that the media's coverage on e-commerce in Sweden are very biased and therefore we dedicate this article to the journalists that are a part of it. Of course there are dangers with online shopping, but we think that the dangers are worse in offline shopping. The fear of new ways of doing things is natural but counterproductive. We at Nordic eCommerce Knowledge have grown very tired of this primitive attitude. Our intention in writing this article is to challenge this fear tactic and turn the tables. What would the media's warnings have been if offline/brick and mortar shopping had been the knew kid on the block? Link to the article in DN: http://www.dn.se/ekonomi/sa-nathandlar-du-sakert/.